August 4, 2018
By Kelly Lam, Wesleyan University
This summer, I interned at the Ann Arbor Ecology Center under Lindsey Scalera, the Farm to Institution Campaign Director.
My journey with sustainable food systems sprouted in a food systems class taught by my peers, freshman year of college. Until this summer, my exposure to sustainable food had not strayed far from the academic bubble where it first developed. But for the past two months, I have had the privilege to work alongside individuals who have made creating sustainable food systems their life's work—and I am incredibly humbled. No matter where I went in Michigan—Traverse City, Frankenmuth, Lansing, Ann Arbor; who I met—farmers, processors, distributors, food service directors, community members; there seemed to be an unlimited devotion within people to improving Michigan's food system.
Enjoying great, local food at one of many community events of the summer.
And, I am so amazed.  I learned that food is life; it not only nourishes our bodies, but it also uplifts our communities economically, empowers socially, and serves as a common ground to facilitate connections between people, and people and the environment. During my internship, I conducted local food research and compiled stories of people involved in farm to institution work. I created a quote bank—a vault of sorts—of individuals' voices and stories, of people talking about their work. I attended farm to institution networking meetings where I had the opportunity to meet some of the individuals I was profiling. Being able to read about and then meet the people behind the work introduced me to perspectives I'd never been privy to before; it gave me a learning experience beyond academia.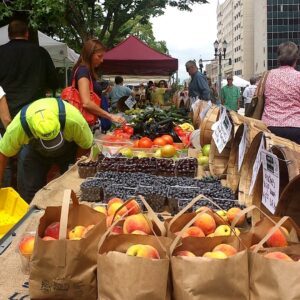 Farmer's Market in Lansing, Michigan's State Capitol.
I learned a lot and I will continue to learn. My mentor, Lindsey, showed me compassion and interest in my background and goals—developing my work plan around my skills and her available projects. I'm grateful to her for welcoming me into Michigan's food system community; driving me across Michigan to meet people, participate in events, see farmers' markets, and try new foods. My biggest challenge during my internship was my distributor database work, where I had to reach out to distributors to find out about local foods they carried. People didn't always get back to me, and I didn't always communicate our needs effectively. However, the work pushed me to find my voice and improve my communication skills.
I have felt so welcomed at the Ecology Center and in Michigan's food system community. As I emerge from this internship, I feel stronger and more confident in my abilities to work with people and communities to create a just and sustainable food system. The skills I've picked up here in relationship building, communications, research and campaign planning, and story-telling are lifelong skills that I will carry with me throughout my career in food systems work.